Wednesday, 23 October 2013
CT ChocUkDesigns For Manipulated By Magik
For Pumpkin Karver Scrap Kit
PLEASE DIRECT PEOPLE TO MY BLOG
Manipulated By Magik - Pumpkin Karver
You Can Purchase this Awesome kit At The Following Stores
Tube - Of Choice - I have used Skeleton Girl By Artur Crowe
which you need a license to use
Mask - Vix_Mask362 (Thank You)
A Working knowledge Of PSP
Lets Begin With My Tutorial
Open PSP and your Tube and Mask.
Open a New 600 x 600 Resolution 200
Paste as new raster layer
Copy the close up of your tube - Resize By 70%
Layers - arrange Move Down - and place her inside the frame
Activate your frame layer and mwith your magic wand tool click inside the frame
Selections - expand by 5 and then invent
activate your tube layer and hit delete on your keyboard KEEP SELECTED
Paste as new layer and resize by 50% - layers arrange send to bottom
hit delete again on your keyboard then selections - none
Activate your tube layer again and change blend mode to Luminance (Legacey)
Activate your frame layer again
Copy the full version of your tube and paste as new layer - resize by 60%
Add the following Drop shadow:-
V&H 2, Op 100, Blur 5 Color, #4597bd
Open and copy the following elements and add the above drop shadow including V&H -2:-
Skull Sign - Free Rotate left 22% - Resize By 60%
Skull - Mirror - Resize By 40%
Rose - Free Roate Left By 80% and Resize By 80%
Flower - Free Duplicate Left 22% and Resize By 50%
Blade - Free Roate Right By 44% and Resize By 30%
Syringe - Free Rotate Right By 88% and Resize By 50%
Scalpel - Mirror and Flip and Reszie By 30%
Heartagram Pumpkin - Resize By 20%
Word Art 1 - Resize By 30%
Open Paper 14 - Layers - Promote Background Layer to raster
Layers - New Mask Layer - From Image - Select Vix_Mask362
Make sure Source Luminance is Checked and Invert Mask Date is Unchecked.
Copy Merged and Paste on Working Image as New Layer.
Layers - Arrange Send To Bottom - Resize By 95%
Repeat Drop Shadow and again with V&H-2
Layers New Raster Layer - Add All Copyright Info or Credits
Layers New Raster Layer - Add Watermark
Select Font Of Choice I have used A Lolita Scorned, Size 72 Stroke 1 and Bold
Foreground Color - #4597bd
Background Color - #22276b
Place on Tag where Desired
Adjust - Sharpen - Sharpen More
Save as Png and Name Your Tag
Thank you very much for following my Tutorial
I would love to see your results
Dont Forget To Check-Out Magik's Blog
Tutorial Written By ChocUkDesigns
Retained by "Copyright © ChocUkDesigns 2013 All rights Reserved"
My CT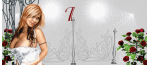 Gen Love


La Vampiresa Designs


Marisa's Twizted Tags


Jamie's Far Away Designs


Gayle


Carrie's Creative Corner



Labels