ChocUkDesigns On Facebook

Follow Me On Twitter

Come Find Me on FaceBook
Where To Find Me
TOU
SCRAP KITS FTU & PTU
All ChocUKDesigns items are for personal use only. No commercial use is allowed under any circumstances.
Please do not claim these Scrap Kits, Mini Kits, Cluster Frames or Quick Pages as your own.
Please do not change the filename.
Please Feel free to modify the size to suite your designs.
Sorry Free Cluster Frames or Quickpages ARE NOT ALLOWED Unless Stated In TOUS
You are NOT ALLOWED to use any items in my kits, or the whole kit in general, in any way with which profit may be gained..
*** Example: Making tags or timeline sets for people for monetary gain ***
This means you can use my kits to make tags or timeline/forum sets for free or for your own personal use, but can NOT use my kits or items from my kits
to make things for other people with which you charge any kind of fee in any way, whether it be by monetary gain or by offering up a trade or a service.
** Thank you for your continued support **
CLUSTER FRAMES
YOU ARE NOT TO RIP
MY CLUSTERS FRAMES
SNAGS
YOU ARE NOT TO RIP OR ADD NAMES
DO NOT CLAIM ANY OF MY WORK
AND PLEASE ALWAYZ DIRECT PEOPLE TO MY BLOG
ALL FREE DOWNLOADS AND SNAGS ARE ALL REGISTERED COPYRIGHTS
Copyright © ChocUkDesigns 2016 All rights Reserved
Mary/Donna Klauer Cornett

Blog Links

About Me
Archives

Tuesday, 7 January 2014
CT ChocUkDesigns For Manipulated By Magik
PTU Tutorial
For Snowflakes & Candy Canes Kit
DO NOT COPY AND SHARE
PLEASE DIRECT PEOPLE TO MY BLOG
DO NOT CLAIM AS YOUR OWN
Supplies Need:-
Manipulated By Magik - Snowflakes & Candy Canes
You Can Purchase this Awesome kit At
PicsForDesigns
or
Mystical Scraps
or
Thrify Scraps
Tube: Of Choice
I Have Used an Exclusive Tube - Christmas With Rabbit
You Can Purchase This Tube At PFD Store By upgrading to an Exclusive Club Membership
Please Note You Need A License To Use This Tube
Mask: WSL_Mask84
Which You Download From Her Blog
Plug Ins:
EyeCandy 4000 - Gradient Glow
MuRa's Seamless - Emboss At Aplha
A Working knowledge Of PSP
Lets Begin With My Tutorial
Open PSP and your Tube and Mask.
Open a New 600 x 600 Resolution 200
Open and Copy Frame 3
Paste as new raster layer
Open and copy Paper 7
Paste as new layer and resize by 50%
Layers - Arrange - Send To Bottom
Activate Frame layer and activate Magic wand tool and click inside frame
Selections -Modify - Expand by 10
Activate Paper layer again and hit delete on your keyboard
Selections None
Activate Frame Layer
Copy and Paste Tube as new layer
Resize by 25% and use the following plug in with these settings:-
Eyecandy 4000 - Gradient Glow
Color: White
Glow Width: 8.27
Soft Corners: 25
Overall Op: 100
Draw Only Outside Selection Checked
Activate your Eraser tool and Erase the bottom part of your tube that is hanging out of the frame
Copy and Paste The Following Elements and add the following drop shadow:-
V&H: 2, Op: 100 Blur: 10 Color: Black
Bear - Resize By 70%
Tree - Resize By 50%
Star - Resize By 50%
Candles - Resize By 50%
Candy Cane Swirls - Resize By 80%
Christmas Cocktail - Resize By 30%
Candy Jar - Resize By 50%
Poinsetta - Resize By 50%
Gift - Resize By 50%
Branch - Resize By 50% - Arrange - Send To Bottom
Layers - Duplicate and then Mirror
Glitter - No Drop Shadow
Open Paper 2
Layers - Promote Background Layer Top Raster
Layers - New Mask Layer - From Image - Select WSL_Mask84
Make Sure Source Luminance Is Check and Invert Mask Data Is not checked
Copy Merged and Paste as new raster on working image
Layers Arrange Send To Bottom
Plug In - MuRa's Seamless - Emboss At Alpha
Base Color R: 128
Base Color G: 128
Base Color B: 128
Emboss: 64
Base <-> Source: 255
Opaque Emboss: 128
Repeat Plug In x2
Activate Your Top Layer
Copy and Paste your tube as a new layer and resize by 40%
Place Tube in Middle of the presents and Snow Globe
Add The Following Drop Shadow:-
V&H 1, Op 100, Blur 5, Color Black
Repeat With V&H -1
Layers - Merge - Visable
Layers New Raster Layer - Add All Copyright Info or Credits
Layers New Raster Layer - Add Watermark
Activate Text Tool
Select Font SnowFall, Size 48 Stroke 1 and Bold
Foreground Color - Black
Background Color - #ff0000
Type Your Name
Place on Tag where Desired
Convert Layer to Raster
Repeat EyeCandy 4000 Gradient Glow with Same Settings as above
Save as Png and Name Your Tag
All Done!!!
Thank you very much for following my Tutorial
I would love to see your results
and
any feedback
Please Email Me
At
Dont Forget To Check-Out Maigk's Blog
Tutorial Written By ChocUkDesigns
Retained by "Copyright © ChocUkDesigns 2014 All rights Reserved"
6JD5-GGY8-6BCJ-9OG3
My CT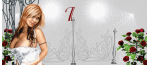 Gen Love


La Vampiresa Designs


Marisa's Twizted Tags


Jamie's Far Away Designs


Gayle


Carrie's Creative Corner



Labels