Monday, 25 January 2016
Hi All
I Have Decided To Finally To Release Another 1x Of My Collab Kits............
Spazz's Baby Shower Scrap Kit


Spazz's Baby Shower Scrap Kit Is A Cute & Bright Kit
Made For Artist Spazz Of Spazz'd Art

Full Of Cute & Bright Elements With A Baby Theme

Perfect For When Your Expecting Or after Your New Bundle Of Joy
Has Arrived.
This Kit Has Colors For All Occasions, Baby Girl, Baby Boy
or Even If You Don't Know Yet!

Whether Your Planning A Baby Shower or
Want To Congratulate Someone
On The Birth Of Their New Baby

This Kit Is For You

Comes With.......
107x Elements
22x Papers

Tagger Size
Only $1.25!!!!!!!!!!!!!!!!!!!!!
You Can Purchase At All My Stores:-

Digi Divas
&
PicsForDesign
My CT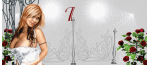 Gen Love


La Vampiresa Designs


Marisa's Twizted Tags


Jamie's Far Away Designs


Gayle


Carrie's Creative Corner



Labels