Friday, 5 February 2016
TAG SHOW OFF
Just Wanted To Show Off Thes Awesome Tag Made For Me
By Jamie's Far Away Designs For Smiley Creations Shop CT Using
My PTU Scrap Kit The Cold Doesn't Bother Me Anyway
Check-Out Her Awesome Blog As Well!!!!!!
I Love How Beautiful This Time Of Year Is
A Winter Theme Kit Full Of Gorgeous Blues, Whites & Silvers
It Might Be Cold Outside But This Kit Will Warm You Up
Even Though I Haven't Seen Frozen I Do Love The Snow Queen Fairy Tale.
Comes With.......
215x Elements & 20x Papers
4x Angelica Seller's Tubes
4x Lady Mishka Chibis
1x Swan Scraps Doll & Kitty
Tagger Size
Only $2!!!!!!!!

You Can Purchase At All My Stores:-
Smiley Creations Shop
My CT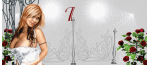 Gen Love


La Vampiresa Designs


Marisa's Twizted Tags


Jamie's Far Away Designs


Gayle


Carrie's Creative Corner



Labels