Friday, 5 February 2016
TAG SHOW OFF
Just Wanted To Show Off Thes Awesome Tag Made For Me
Check-Out Her Awesome Blog As Well!!!!!!
http://roxis-creations.blogspot.de/
I Love How Beautiful This Time Of Year Is
A Winter Theme Kit Full Of Gorgeous Blues, Whites & Silvers
It Might Be Cold Outside But This Kit Will Warm You Up
Even Though I Haven't Seen Frozen I Do Love The Snow Queen Fairy Tale.
Comes With.......
215x Elements & 20x Papers
4x Angelica Seller's Tubes
4x Lady Mishka Chibis
1x Swan Scraps Doll & Kitty
Tagger Size
Only $2!!!!!!!!

You Can Purchase At All My Stores:-
Digi Divas
My CT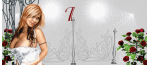 Gen Love


La Vampiresa Designs


Marisa's Twizted Tags


Jamie's Far Away Designs


Gayle


Carrie's Creative Corner



Labels