Friday, 15 April 2016
TAG SHOW OFF
Just Wanted To Show Off Thes Awesome Tag Made For Me
Check-Out Her Awesome Blog
As She's Written A Tutorial As Well!!!!!!
http://mariesdesigns63.blogspot.co.uk/2016/03/ct-digi-divas-tutorial-hoppin-into.html
"To Show Your True Colors You Have To Come Out Of The Shell."

Betsy Is a Digi Divas Exclusive Kit Match For Alehandra Vanhek's Betsy Tube


Only $1.85!!!!!!!!
Which You Can Purchase Exclusively At:-
Digi Divas
A Cute & Bright Kit Full Of Soft Spring & Easter Elements
All In Variety Of Blues, Greens, Yellows, Pinks & Whites
Even Bright Colors!!!!
Perfect For Any Spring Or Easter Projects
100x Elements & 10x Papers
Tagger Size

TUBE NOT INCLUDED
Only $1!!!!!!!!
You Can Purchase Exclusively At:-
Digi Divas
My CT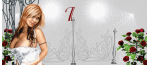 Gen Love


La Vampiresa Designs


Marisa's Twizted Tags


Jamie's Far Away Designs


Gayle


Carrie's Creative Corner



Labels